Project Description
American Direct Elite Partner :: Gephart Low Voltage Systems
Although American Direct and AccessNsite have an excellent team of in-house integrators, we also work diligently to develop a substantial outside network of Elite Integrator Partners across the country to fulfill the responsibilities necessary for successful openings execution in all locations. These integrators are fully prepared to provide products and services unique to each situation, on time and on budget. 
Gephart Low Voltage Systems is a division of Gephart Electric. Gephart's Project Manager, Rob Clifford, was introduced to AccessNsite in 2014 at the International Security Conference trade show. Rob became intrigued because the driving force behind American Direct's access control was a Mercury platform. "We like the Mercury platform because it is non-proprietary and owner friendly," says Clifford. If necessary, Mercury platforms allow the access control software to be de-installed and new software re-installed without the entire system having to be replaced. "Knowing how the Mercury platform works, and how easily it is to use with different access control software, keeps our feet to the fire as an integrator to provide our clients with AAA service. We know that at any time they can easily change software, so we will always do everything we can to keep our customers more than satisfied," says Clifford. In order to make sure their clients never consider such a change, Clifford says his company has a mandatory response time. "If there are any issues, we will have someone there within 24 hours. We have a fleet of service trucks and we have the accessibility to reach our client as soon as they need us," says Clifford. 
Gephart Electric just celebrated their 40th year in business. Their success proves that they have kept their costs competitive, whether it is a bid, a change order, or a future order. What they sell, they install. They know their products well and want to work with others who have the same kind of dedication and knowledge. 
That is why they like working with American Direct and AccessNsite. Clifford says, "Our AccessNsite representative, Eric Rohleder, is nothing short of phenomenal. He makes regular trips to our office, and if we need pricing or if we have a part that needs attention, we contact Eric and we never go more than an hour without a reply. With the Mercury platform, and the ability to change the software with it so economically, we need to have the reassurance from the companies we do business with that service will be immediate, without question. The service that American Direct and AccessNsite provide is what sets them apart from their competitors," says Clifford.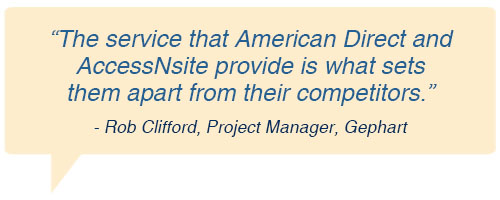 "Sometimes we need technical support. For example, on a recent job, a customer wanted a panic device with a lock down feature for just the exterior doors in case there was ever an active threat. Most canned software doesn't do that, so you have to write rules and exceptions. I called our technical representative at AccessNsite, John Erwin, and told him what we wanted. He wrote the specific code, entered it into the AccessNsite software and within an hour, that feature was available. It is this whole service level that keeps us doing business with American Direct and AccessNsite," says Clifford. 
AccessNsite's Security Sales Manager, Eric Rohleder, says, "AccessNsite is a tried and true, stable platform and Gephart is doing a great job of getting AccessNsite into customers' hands." The beauty of the elite partner relationship is that this is a win-win for everyone. AccessNsite is being introduced through professionals like Gephart and at the same time, Gephart is now able to expand their reach into providing Division 8 products. Rholeder says, "AccessNsite can drive nearly any family unit door lock. This brings all sorts of opportunities to Gephart that they didn't necessarily have before." 
Gephart is located just north of St. Paul, MN. Their staff includes administration, shipping/receiving, tool and material procurement, electricians, project managers, project estimators, engineers, designers, and more. Gephart provides electronic security, fire and life safety, data/voice cabling, wireless network solutions, fiber-optic technologies, and sound masking/paging systems, along with complete design-assist and design-build capabilities.
Gephart is most well known for their work in sports stadiums. A project that Gephart worked on to install AccessNsite access control and CCTV surveillance throughout the facility is the extensive $140 million renovation of the Minneapolis Target Center where the Minnesota Timberwolves play. This project included updating the guest suites, general lobby, locker rooms, dressing rooms, and more. A new scoreboard was installed and the exterior of the building has taken on a new look. The centerpiece of the atrium is a multi-light chandelier in the shape of a basketball net. Suspended above it, and visible from the upper level is a metal basketball sculpture.

Another Gephart project, also incorporating AccessNsite, is the Minnesota Vikings TCO Performance Center.